"Nothing to Chance"
Babble on.
On the 7th of November, 1942, a new Canadian bomber squadron was formed with the designation 429 Squadron, the Bison as it's symbol, and the Wellington as it's aircraft. Before the end of the war, the Bisons flew Wellingtons, Halifaxes and Lancasters on 3175 sorties with
only 78 aircraft lost
. Squadron aircrew
were awarded
2 bars to DFC, 45 DFC's, 1 AFC, 1 CGM, and 7 DFM's.
That's right, 45 Distinguished Flying Crosses and two bars.
After being disbanded in 1946,
the squadron was reformed in 1967
as a transport unit flying first Buffalo, and then Hercules aircraft. It moved from Montreal to Winnipeg to Trenton.
These are the Squadron Colours: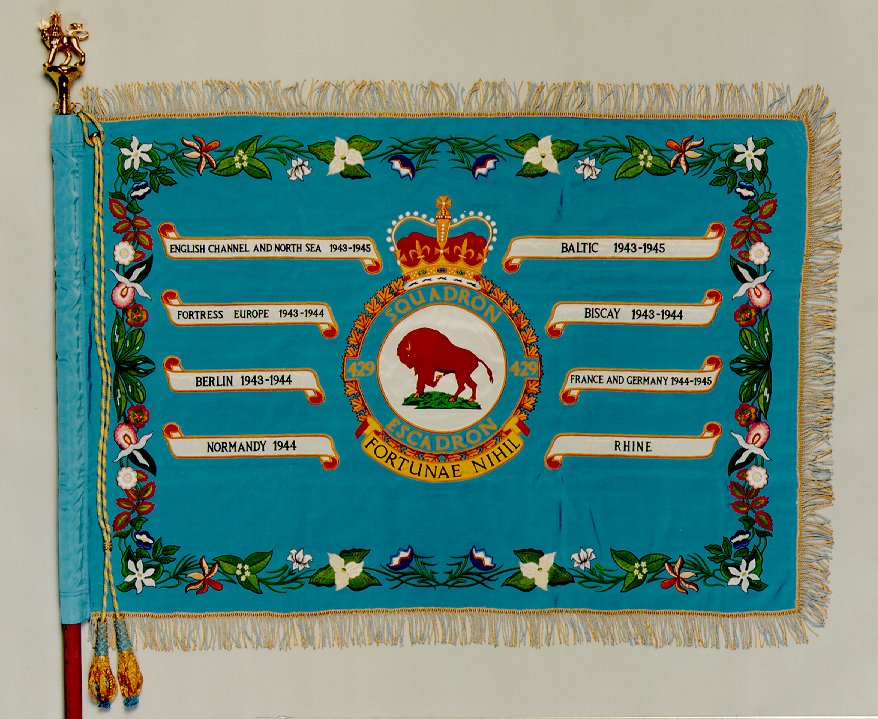 Sadly, those colours have just days ago
been retired
:
Members of 429 "Bison" Transport Squadron stood down here Friday, bringing a chapter in Canadian air force history to a close.

Gatherings of squadronmates were traditionally known as the "gathering of the herd" or stampedes, and the significance of Friday's poignant ceremony drew Bisons from several stages in 429's past.
...
But this summer, the Trenton base will begin opening its new Canadian Forces Aerospace Warfare Centre (CFAWC). The new unit will create 80 jobs and is to reach its full strength of 120 staff by 2008.

As a result, the Bisons are now amalgamating under the colours of Trenton-based 436 "Elephant" Transport Squadron.
...
Lt.-Col. Mike Hood, 429's most recent commander, headed the group for two years and led Friday's final parade. He said his position was a career highlight.

Hood said the changes are not about saving money, but about efficiency and the air force's evolution.

"It's about freeing up some people to tackle other challenges," he said.

He said those under his command are proud of their work to date, but haven't dwelled on 429's fate.

"The guys have been so busy it's not something we've sat around and pondered," said Hood, noting virtually all squadron members have been to Afghanistan for at least two months, shuttling troops and equipment into the country. That work will now continue with 436 Squadron, he said.

"Tomorrow the guys are leaving to go off at other missions, so the work never stops," said Hood.
True enough. I would guess, though, that it's small consolation to those who flew with the squadron, especially in wartime. There is a great deal to be said for unit loyalty.
At least the CFAWC - which is what has bumped the Bisons - will be carrying on the squadron's motto "Nothing to Chance" as they develop policies to optimize use of the Air Force. But it remains a sad day nonetheless.
Hopefully, one day Canada's Air Force will once again expand to meet operational needs that haven't really been addressed in recent years, and the opportunity will arise to pull the old, proud colours out of their glass case. How many lives does a Bison have?
Babble off.